---
---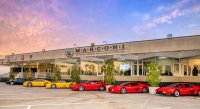 IMRON Corporation is hosting a Security and Safety Summit at the Marconi Automotive Museum on Thursday, October 19th from 11 AM to 3 PM.

Attendees will see live demonstrations from leading security manufacturers and listen to industry veterans regarding risk mitigation and threat prevention.

Each attendee will receive an IMRON swag bag containing swag from our sponsors as well as an autographed copy of Katherine Schweit's latest book, "Stop the Killing".
Buffet Lunch Included:
- Salad: Ceasar, Mixed Greens, Caprese Salad
- Ravioli: Lobster, Portobello, Gluten-Free Cheese
- Mac n Cheese: Bacon, Veggies, Breadcrumbs
- Fresh Fruit
- Sliders: Angus Beef, Portobello Mushroom Bite-Sized
- Desserts: NY Cheesecake, Tiramisu